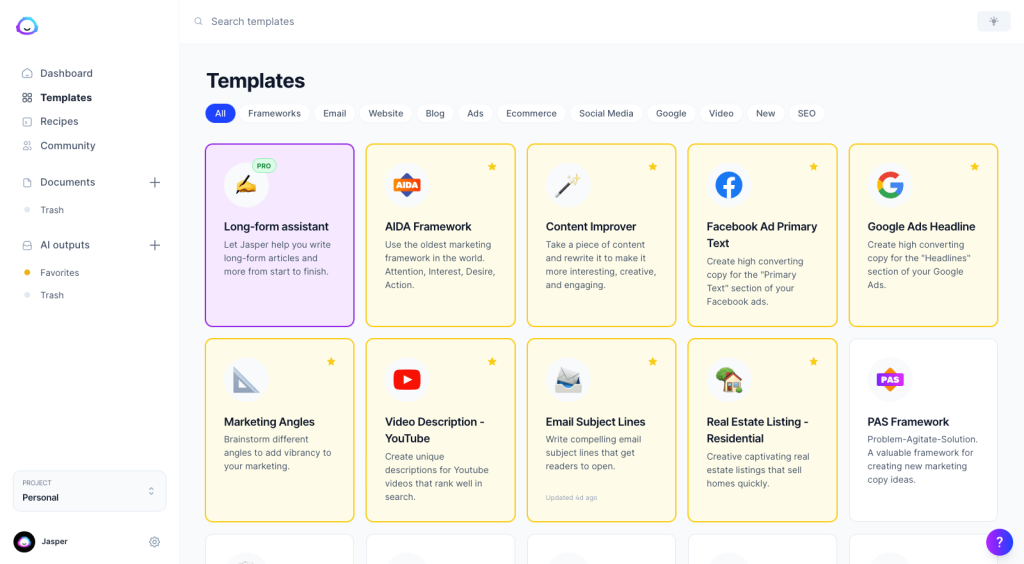 Jasper AI is an advanced tool designed to revolutionize the workflow of enterprise marketing teams. It's not just about speeding up the process; Jasper AI focuses on enhancing the outcomes, ensuring that the marketing content is not only produced faster but is also of higher quality and performance.
Tag: AI Chatbot GPT
Developer: Jasper AI
Release Time: 2021
Users: Over 5 Million
Company Intelligence: Acts as a central hub for all content, ensuring alignment with brand positioning, company strategy, and audience research.
Campaign Acceleration: Enhances communication and project management, streamlines content creation and optimization, and accelerates the development of multichannel campaigns.
Content Acceleration: Offers tools for rapid, on-brand content development, supporting various content forms and multichannel campaigns.
Analytics & Insights: Moves beyond content creation to offer actionable insights for content improvement and optimization, with direct publishing options.
Integration and Accessibility: Known as "Jasper Everywhere," this feature allows users to integrate Jasper's capabilities into various platforms through extensions and APIs, facilitating on-the-fly content creation and modification.